Pound her pussy with coital alignment technique
Isn't it wonderful when you and your partner cum at the same time? But we all know that is not always the case with male-on-female sex. In fact, the majority of women can't reach orgasm through vaginal penetration. Most of them need clitoral stimulation. Luckily, there is one easy trick to make your girl scream from pleasure and reach orgasm every time. It combines thrusting and clit rubbing, and it's called coital alignment technique.
What is coital alignment technique?
Coital alignment technique (CAT) is a variation of the missionary position. The difference is CAT doesn't focus on standard in-and-out penetration. Instead, its focus is more on the almighty source of women's pleasure – the clit. CAT position is technically penetrative position, but it's not really about penetration. It actually combines pussy throbbing with clit grinding.
Who is CAT for? Usually, CAT is done by a woman (or any vulva owner) and a man (or other penis owners). There are also other possibilities. Two persons with vulvas could grind on each other, which would be something like scissoring, and also use a dildo. Or they could only use a dildo in the same way a man would use his cock.
How to do it?
The main difference between a regular missionary and coital alignment technique is in the movements and angle. While missionary (and most other fucking positions) include in-and-out thrusting movements, CAT requires up-and-down rocking motion. That way, the base of the penis is rubbing the clit.
To do this, the partner on the bottom, the one who will receive the most stimulation, should lie on her back and place the legs apart. It's also helpful to place a pillow under the tailbone. That way, the hips will be perfectly aligned. The best angle for most people is 45°. Since you can't actually measure it during sex, a cushion will do.
The top partner should place his body higher than usual. For example, the top's chest should align with the bottom's shoulder, while both persons' chests would be aligned in regular missionary.
Positioned like that, the man will be able to rest his weight on the woman's pelvis. When he lifts his hips up, the base of his cock will rub the clitoris and labia. And when he lowers himself, his pubic bone will press on the vulva. Also, the cock is pointing downward in the pussy, not upward like in regular missionary fucking. Pointing downward makes it easier to hit the back wall of the vagina.
Keep in mind that the dick shouldn't be entirely in a pussy. Instead, only a part of it should enter. That way, the shaft will rest against the vulva, grinding on it and stimulating the bottom partner.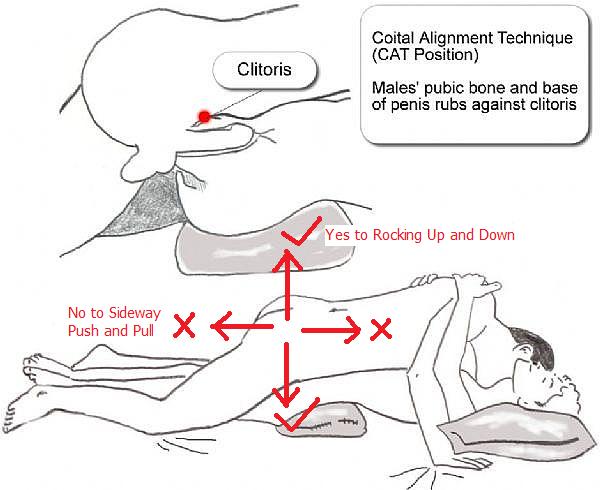 Helpful tips
Now that you know the basics of coital alignment technique let's see what you can do to improve the experience even more.
You and your partners can create even more friction by grinding if you move in the opposite direction. That means, when the man is moving up, the woman should move her hips down, and the opposite.
It's also helpful to lick the pussy first. That will provide additional lubrication and make the grinding and rubbing go smoother. You can always use lube as well.
I've already mentioned that using a cushion or a pillow is an excellent way to bring the bottom's hips up and align them at a perfect angle. An even more practical solution is a sex pillow. Investing in one of these would be helpful for many sex positions, not just for CAT. Sex pillows have a supportive wedge that slides under the back. That can enable deeper thrusting and more comfort.
CAT is supposed to help the woman reach an orgasm, but the man's pleasure is also important. So, if slow up-and-down motions are not enough to make the man cum, the couple can always continue with deep hardcore fucking after the woman climaxed.
In case you want to mix it up, you can try the reverse CAT. In this position, the recipient is on top. When sitting on top of the partner with a dick or a strap-on, the person with a pussy should place their body lower than usual. That way, the clitoris will be able to grind against the cock or the dildo.
Are there any downsides of CAT?
Not really. You should only keep in mind that all bodies are different. What does that mean regarding CAT? Cocks come in many different sizes and shapes. They can also be curved aside or tilted under various angles. Pussies can be tilted in different directions and under different angles. Also, the difference between the vaginal opening and the clit can vary.
So, different people will feel different stimulations during coital alignment technique. If one angle doesn't work for you, try another. Try different movements as well. It might be weird at first, but it will pay off when you see your sexual experience improving.
Benefits of coital alignment technique
An obvious benefit, and a goal of coital alignment technique, is the female orgasm. While there are many ways other than penetration for a woman to reach the climax, such as pussy licking, anal sex, any clit stimulation, some prefer a good old pounding. However, most people with pussies can't reach orgasm simply through penetration. There are also those who require simultaneous vaginal and clitoral stimulation in order to come. So, CAT combines those two things and makes it easier and faster to reach the big O.
If you think that men can't benefit from coital alignment technique, I'm happy to prove otherwise. With a slower place and shallow penetration, the man doesn't get as aroused as when he fucks hard. That makes it easier to control himself and postpone cumming. CAT can also be an excellent way to deal with premature ejaculation.
If both partners' sexual needs are satisfied, sex life gets better in general. And having an orgasm at the same time can bring the couple closer in a special way.
Coital alignment technique provides clitoral and vaginal stimulation for a woman, making it easier for her to achieve an orgasm. It also slows down the man, allowing him to last longer. As I see it, it's a double win. So, try this out if you want to give your girl the ultimate pleasure.