Guide for sucking a strap-on
Blowjobs are a fun and arousing sensation for both the giver and the receiver. Having someone's hard cock deep in your throat or feeling someone's thirsty mouth around your boner is truly wonderful. And it is the same with strap-on blowjobs. If you are wondering why anyone would enjoy sucking a strap-on, I suggest you try it first before you jump to judging.
Although porn movies often picture the use of strap-ons as something related to lesbian or queer couples, the truth is anyone can use them. Wearing a strap-on or having it throb your holes is fun, no matter who you like to fuck or what you have between your legs.
Faux blowjob
Now that we've settled the fucking part, let's talk about the sucking. What is so attractive about working a silicon dildo with your tongue? Can the person wearing the harness actually feel anything?
Some people use the expression faux blowjob for sucking a strap-on. There is nothing wrong with that name, as the strap-on blowjob is basically giving head to an artificial dick, but I don't like the implication that there is something fake in this act.
Receiving the strap-on blowjob
For the receiver (the person wearing the harness with a dildo attached to it), this experience is all about fantasizing. Well, almost all, but I'll get back to that later. When you are the person with the harness, you need to accept the dildo not as a toy but as a part of your body.
Arousing the body starts with stimulating the mind. So, it is important to imagine how it would feel if your partner was actually sucking your dick instead of the silicon toy. Especially if you do not have a penis and are not familiar with the authentic feel of a blowjob. Imagine the sensation that the movements of your partner's tongue and lips would cause. Picture those tingles and waves of pleasure.
It is not true that you won't feel anything physically when wearing a strap-on. Most of the harnesses are designed so the base of the dildo can apply pressure on the clit. Those few harnesses made for people with penises also allow the wearer to feel the movement of the dildo as their partner sucks it. That stimulations, plus the fantasizing, can be enough to make a person cum.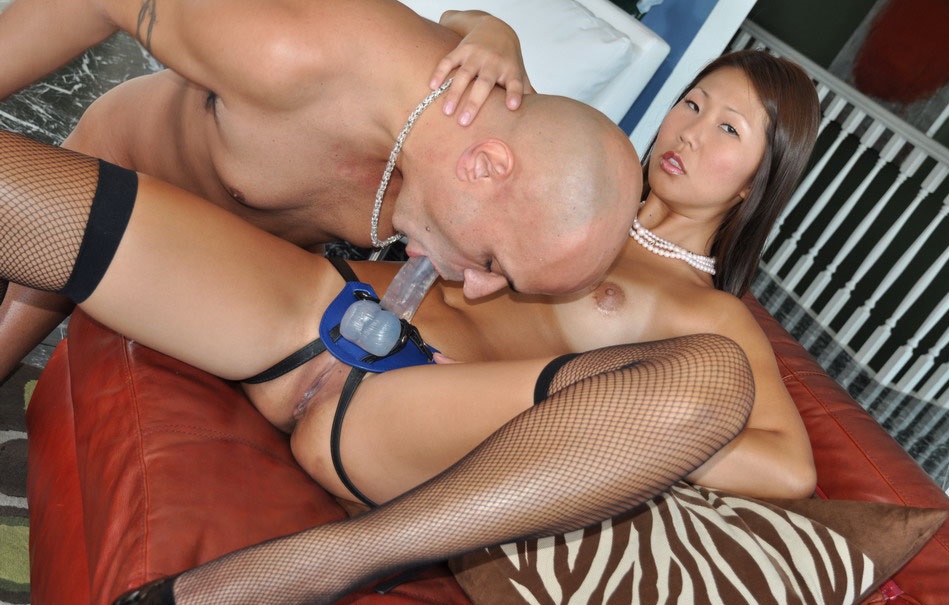 Choosing the right equipment
Even though the sex toys industry is very large and diverse, it can be challenging to find the right toys. Most of the harnesses on the market are made for cis women, with very few that fit trans, queer, or people with penises.
When choosing the harness, you should go for the one that is not too loose nor too tight. If it's too big for you, the dildo can wander around or fall out. On the other hand, a too tight harness will make you uncomfortable and likely ruin the experience.
For additional stimulation, you can try a thong harness. Unlike regular ones that have two straps, the thong harness has one strap that goes in the middle, right over your genitals. It grinds on your clit (or whatever you have down there) and gives you more pleasure.
As for the dildo, pick the one that you can identify with. Even if, for you, wearing a strap-on is not about having a cock, choosing a dildo that feels more natural to you will make it easier to accept it as a part of your body. Fortunately, there are many kinds on the market, from realistic-looking ones and dildos with pumps that ejaculate lube to those that look like some space device.
Sucking a strap-on
As for the person giving head, sucking a strap-on is almost the same as sucking a real cock. You can do all the same things as you would do to a cock. Deep-throat it, lick it, circle your tongue around the tip. The cock doesn't have to be made out of flesh for you to enjoy sucking it. There is a particular thrill in the act itself. Although some people consider giving head as a submissive act, personally, I see it as a position of power, where you hold someone's pleasure (and their most sensitive part) between your teeth. If your partner doesn't have a dick, sucking a strap-on can give you that feeling. Plus, there are many types of dildos that imitate the texture and shape of a real cock. That includes the realistic shape of the shaft and the tip, along with a little hole on the head and the veins.
You can approach a strap-on BJ as you would approach any other blowjob. Start by teasing your partner for a bit, lick the dildo and look your partner in the eyes before taking the dong into your thirsty mouth. However, there are some tips specific for sucking a dildo that can make this activity more enjoyable for both the giver and the receiver.
Tips for sucking a strap-on
Keep in mind that, unlike a cock, a dildo can't spay you with cum or change its size and will always stay hard. You won't be able to tell your partner's reactions by focusing only on the dildo. So, pay attention to your partner's whole body, moans, and other reactions. That way, you will know if your partner is enjoying or if you need to change something about your approach.
Remember that your partner will feel even more excited if they can hear your actions. Slurping and sucking sounds are hot. They tell your partner that you are enjoying what you are doing. Also, the noise helps them have a clearer picture of the blowjob since imagination is a big part of it.
You can hold the base of the dildo with your hand if you want to stop it from going too deep into your throat. This little trick will also steady the dildo and give your partner a firmer base to rub and grind their junk against.
To bring your sucking to the next level and give your partner intense excitement, put one of their fingers inside your mouth alongside the dildo. That will let them feel every movement. They will know precisely what you are doing with your tongue and lips and will experience the blowjob more intimately.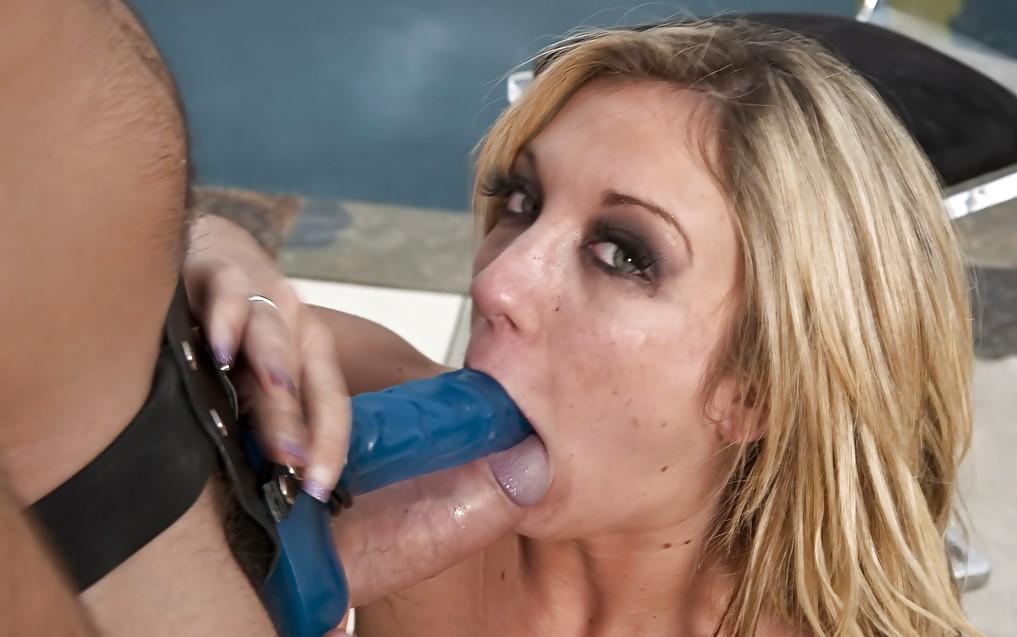 Safety tips for sucking a strap-on
Licking the dildo up the shaft is not only incredibly sexy but practical as well. The saliva will act as a lubricant and make the otherwise dry dildo wet so the sucking can go smoothly. You can also use lubes made especially for blowjobs to make the sucking more pleasant.
This is especially important because hard silicone can be a bit unpleasant for the sensitive tissue inside of the mouth. It is possible to feel more discomfort after sucking a dildo than after sucking a real dick. Taking care of irritated or sore throat is easy with a hot tea or a bit of honey, but you can also try to avoid this kind of situations by using a dual-density dildo. They are hard in the middle but have a slightly softer surface that resembles the skin and feels more natural to the mouth.
Gender and sexuality implications
There is a lot of controversy about using a strap-on. "You can't be a lesbian if you enjoy when your girlfriend fucks you with a strap-on or when you suck this toy", "A man that sucks his girlfriend's strap-on and lets her peg him must be secretly gay", "There is nothing fun in putting a silicone dildo into your mouth", "Women who wear strap-ons want to be men," and similar beliefs are pretty often in mainstream opinion. Throw these stereotypes away!
Wearing a strap-on, or wanting to stick it into your mouth, ass, or pussy, does not necessarily mean anything. Yes, some women and trans men identify with their strap-on. Some wear it as an act of power or anti-patriarchy/heteronormative/cis-normative act. Others just enjoy wearing it with no other implication. And that is all okay! What's important is having an open mind about using the strap-on.
With an open mind and a little bit of skill, you will find that strap-on blowjobs are really a unique experience. Whether you prefer wearing the harness or sucking a strap-on, or both, you can get the most out of this act. All you need is to try some of these tips, practice, and have a lot of enthusiasm.