Beginner's guide to sensual domination
If domination has always been your kinky itch that you might consider scratching but don't know where to start with, keep on reading. 
For a taste of domination, you don't have to have a lot of experience. To simply dabble in domination, you just need to have a very open discussion with your partner about what you would like to try out, what you expect, and for both sides to set clear boundaries. As long as everyone is honest and open to trying new things, it will go smoothly.
You both need to be vocal about what you would like to try, as well as what is a definite no. Also, for the first while, experiment who is the Dominant and who is Submissive – take turns in role-playing to figure out which role fits which partner better. You can always decide you both like both roles, and respectively change roles each time you play, as nothing is set in stone.
A big part of a Dominant person is to set the scene for the Submissive. Many people think that the Dominant is the only one getting satisfaction from the fantasy, but that is rarely the case. Creating a fantasy for a submissive that makes them feel secure, heard, and desirable is one of the most important tasks a Dom has. As a Dominant, you should care more about how the subordinate feels than what you desire.
Your submissive's fantasy is as important to you as understanding what they don't want to do.
Sensual domination is exactly that – making sure your partner feels excitement and pleasure. To be able to successfully do that, here are some great pieces of advice.
Talk it out
With any type of kink, the most important thing is to communicate openly and clearly.  Every scene in fantasy needs to be negotiated, especially in submissive fantasies.
Find out what your partner is looking for by asking a few essential questions:
"Why don't you tell me what it looks like in your mind when I'm dominating you?"
"What kind of mood do you want to get into?" (Controlled, humiliated, treasured, tested, or some mix of the above)?
"What roles are we playing in your fantasy?" (For example, teacher/student, doctor/patient, mistress/slave, and so on.)
"What do you envision as the scene's climax?" Tears, orgasms, or anything else you can think of.
Have safe words
You and your partner should agree on a term that you will both use if things go too far and either one of you breaks a barrier that you didn't foresee. Good safewords are simple as green, yellow, and red. 
Everything should stop the moment you hear or speak the safe word. BDSM can only function if everyone involved enjoys it—so as soon as it becomes evident that things have gone too far, it's game over. Stay by their side as long as it takes for them to explain what it was that prompted them to use the safe word, and then ask them what they'll need going ahead.
Start small with domination
Don't try to cram too many things into your initial project; instead, focus on something that you can manage. In addition, this makes the opening scene more successful and leaves the audience eager for more. As you begin your first session, agree to check in with each other to see how things are going. Making eye contact and nodding can help you both stay in your roles while also keeping you safe.
Think about how you want the session to play out. Less may go wrong when something is made as simple as possible. As an example, you may decide to handcuff them before performing some you-are-in-charge sex. Even just having your partner wear a mask can be enough for the fist time.
Or, you can try something as simple as spanking, for example.
There's no need for a paddle, riding crop, or other equipment to make an impact play satisfying.
In the end, it's up to you to follow your instincts and be confident in your abilities as a gentle, strong top.
Impact play, sometimes known as corporal punishment, is already at your disposal with just your hands.
It's simple to spank someone without losing your patience. Slightly cup your hand. Using this method, you can spank for a long period of time without irritating your skin with skin-on-skin slapping.
Your submissive should be slapped with the meaty part of your palm. Additionally, you'll be in complete command and able to spank at a level that corresponds to the level of discomfort experienced by your subordinate.
No matter how many new toys you buy, you should never underestimate the joy of a well-deserved spanking. Skin-on-skin impact play has a calming and commanding quality to it that is hard to put your finger on.
Your relationship with your submissive will become stronger as a result of this intimate encounter.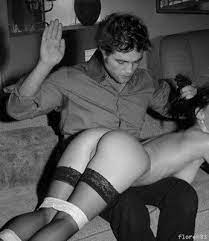 Don't forget aftercare
Once you've finished, check back in with each other to see how things went. You might both need some care afterward because you're both revealing parts of yourself that you've never shown before. Or simply because some part of your body could be sore.
Don't be hard on yourself or one another. Help take care of sore parts, both physical and mental. If you need to take time to process what happened, do so, but make sure to talk again once both you and your partner have had time to process information. Go over dos and don'ts, to know exactly what to repeat in the future, and what to avoid doing. 
Final thoughts on domination
Whatever you do with your partner, as long as you both enjoy it, go for it. But as we previously mentioned, the most important thing in any fantasy is to communicate, as, without it, one of the partners may not enjoy the session.