Pickup lines that will get you laid
I sometimes feel like the biggest of all mysteries is how to pick up a hottie and get them to your bed for a hot fucking session. Sometimes this feels like such a challenging job. How to approach, what to say, how to be smooth but not look like a player, and other questions are often left without solid solutions. Many people reach for funny or dirty pickup lines believing that is the way to charm others. But what are those pickup lines that will get you laid?
Hooking up is hard
Finding a date or someone interested in a one-night stand is not the easiest job. How many times were you approached by someone with the cheesiest line? How often do you use pickup lines in a club or in online dating? Do those lines work? What I can say from my experience is that the same lines sometimes get you laid and sometimes lead to a disastrous rejection. So, there is no general rule that works for every situation.
Pickup lines are often cheesy and sometimes hilarious. Some are so bad that they are actually funny. And sometimes, even the worst lines lead to success. I guess it all depends on how you present the line and yourself.
Whatever the case, it can be entertaining to hear a creative line. Especially when humor is always an attractive characteristic. So, let's have some fun with pickup lines that will get you laid (maybe).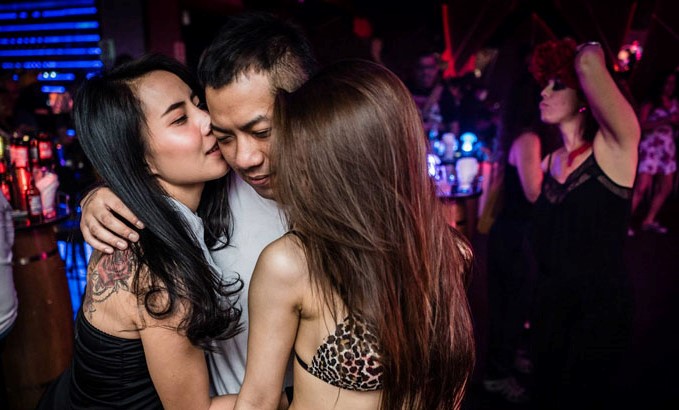 Funny pickup lines
It's the twenty-first century, and by now, everyone has heard some of the most popular and cheesiest lines. I'm talking about things like:
Well, here I am. What are your other two wishes?
Are you from Tennessee? Because you're the only ten I see!
Do you believe in love at first sight—or should I walk by again?
A person would have to live in a cave not to have heard these ones before. Maybe they did work once, in a time before the internet, or perhaps only in 1960's movies, but you won't have much luck if you try them now.
If you intend to approach someone with these lines, keep in mind that they probably won't work. Unless the person you are hitting on finds these lines incredibly funny and decides to take them as a sign of your great humor. Otherwise, you will be jerking off alone with your porn later that night.
On the other hand, some funny pickup lines can potentially work if you know how to say them.
Did you know I am good with numbers? Give me yours so I can prove it to you.
You're so beautiful that you made me forget my pickup line.​ (Okay, this one is simple and cute, and it would actually work on me.)
Do you want to know how I got these muscles? Picking up beautiful women/men like yourself.
Is your name winter? Because you'll be coming soon. (Keep in mind that this Game of Thrones reference can only work if the person has seen the show. So, unless you met them in a GOT convention or on a fan page, you would only get a confused face out of them.)
Dirty pickup lines
If you don't think humor will help you, you might wish to try lines that insinuate what you want to do with the hottie you are trying to pick up. Dirty lines are a bit riskier because some people can feel offended by them.
So, it's wiser not to approach someone with a dirty pickup line but to use it later in the conversation. By the way, if the conversation is not going well, you won't make it better with a dirty line; you can only make it worse. That's why these lines should be used only when you see that the other person is interested in you.
To understand this advice better, just look at some of the lines people use. It would be straight up rude to just walk over to someone you see for the first time and say things like:
Is that a mirror in your pants because I can see myself in them. (I don't see this one working in any situation.)
They say that kissing is a language of love, so would you mind starting a conversation with me?
I find your lack of nudity disturbing.
That's a nice shirt. Can I talk you out of it?
I loved watching you move your hips on the dance floor, and I would like to see you move like that in my bedroom.
If you blab lines like these as soon as you approach someone, they will probably just roll their eyes or slap you. But if you use the lines (the last three especially sound smooth) after you spend some time talking with the person you're interested in, and after things heat up, the lines might work.
Can pickup lines really get you laid?
Sure! If you know how to use them. And if you are charming. And if the universe is on your side. My point is pickup lines are usually not enough to make someone want to hook up with you. They can help, as they make you look like a smooth talker or like you are funny. You can use them to break the ice, but it all comes down to your charm. Feel free to use any elaborate pickup line, but keep in mind that even a simple "Hey there, gorgeous!" can get you pretty far if you know what you're doing.