Is polyamory really working?
Isn't having as many partners as you can the dream? For some people, as least. However, fucking with more than one person is not all that polyamory is about. This term is used when a person has multiple relationships at the same time. But is polyamory really working?
What is polyamory?
Before we get deeper into the principle of polyamory and whether or not it can work long-term, we need to clarify basic terms first. Polyamory is when a person has multiple consensual relationships at the same time.
It is not the same as cheating or pretending you don't know or don't mind your partner cheating. A polyamorous relationship requires everyone involved to know about other people their partners are dating and to agree to that.
Polyamory also differs from an open relationship. An open relationship is when partners agree that it's okay to bang people outside of the relationship, but they are not associated with each other's other partners. On the other hand, people who practice polyamory often hang out with people their partners are dating.
Although they sound similar, polyamory is also not the same as polygamy. Polygamy is the practice of being married to more than one person at the same time, and it's illegal in most modern countries, including the US.
Polyamory is not just about sex (although it must be great having the possibility to fuck in many different ways with different people). It's about building deep connections with more than just one person. That includes sexual, romantic, emotional, and friendly connections.
The good sides
At the mention of polyamory, many people instantly have in mind orgies; tons of threesomes and group sex; sweaty bodies tangled up in one pile; double penetrations; everyone groping, kissing, and banging each other in an all-night fucking session. As hot as this sounds, this is not what polyamory is about. Although, I'm sure some people like it that way.
Despite not being the same as porn movies describe it, polyamory does bring significant benefits to sex life. For example, if one of your partners loves vanilla, but you can't get it on without kinks, the two of you can get the desired kind of pleasure from other people, while finding some less satisfying compromise for having sex with each other. Or you can have a romantic relationship that doesn't include sex, and satisfy your sexual needs with other people.
Of course, being in a polycule (having multiple partners who also date one another) can be pretty convenient when you do want to organize orgies.
Diverse sex life is not the only good side of polyamory. In a monogamous relationship, you are limited to one person who's supposed to satisfy all your needs – sexual, romantic, emotional, etc. Also, you need to be able to meet all of the needs of your partner. However, in a polyamorous relationship, for example, you can have a partner you usually turn to for emotional support, but who is asexual, so you go to another partner when you want to fuck (but you can have an emotional connection with them as well).
Another plus side is that having consensual relationships with different people beats cheating. It's better to be open from the start and to have a partner who is not only okay with you dating someone else, but is happy for you.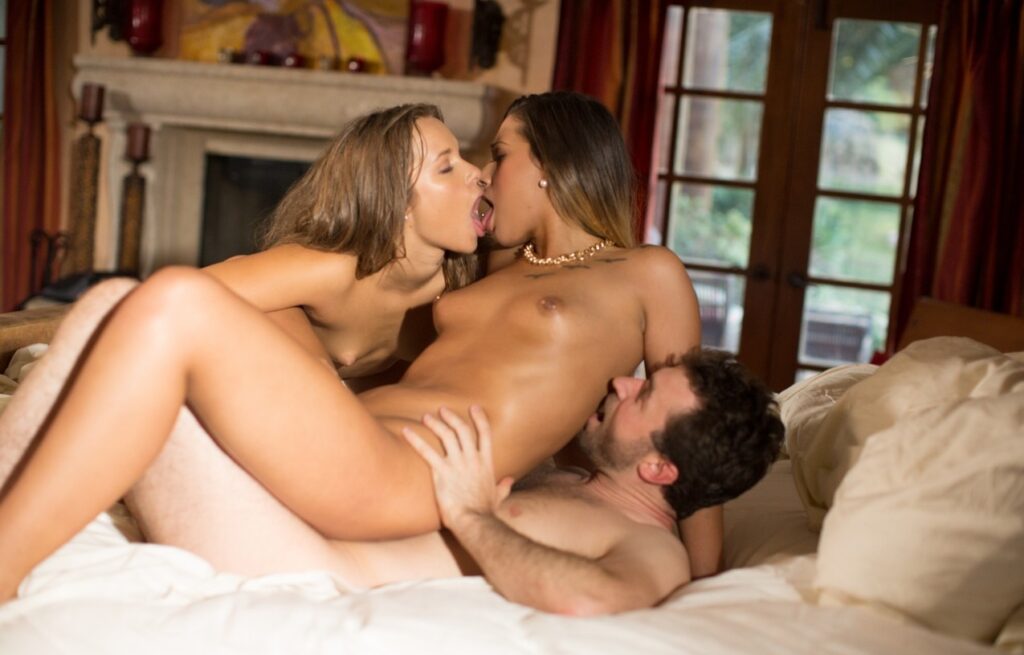 The bad sides
Like any other thing, polyamory is not all sunshine and roses. Every relationship has its issues, but what happens when you're in more than one relationship? Does that complicate everything even more?
It's not always simple to fit into everyone's schedule and commit to everyone's needs equally. Let's say two of you're partners have urgent problems at the same time. How to decide whom to help?
Stereotypes about polyamorous people suggest that they are afraid of commitment and that it is the reason they have many partners. However, it's quite the opposite. Being in multiple relationships requires having multiple commitments. That takes even more courage and hard work than being devoted to only one person.
Human interactions are often very complicated. What happens when there's a fight between two members of a triad or a polycule? That puts other partners in the middle and in a position to take sides. And if they take sides, they risk adding fuel to the fire. Imagine a situation where a polycule consists of two previously monogamous couples, and a member of one former couple stops talking with a member of the other former couple. Does that mean the other two should stop talking as well? These scenarios are not impossible, and they can be a big problem if partners don't talk about stuff like that in advance. It's crucial to set agreements and boundaries at the beginning. Without proper boundaries, a relationship is a hot mess. Still, enough communication and established boundaries can solve these problems.
And what about jealousy? It's in our nature. How are you supposed to feel when your loved one loves and fucks another person and spends time with them? Or do poly people don't get jealous? Apparently, those in a successful polyamorous relationship say they do feel jealous occasionally, but they deal with it by talking about it.
Unicorn hunting
Having a threesome with your GF and another sexy woman and seeing the two of them play with each other is every straight man's fantasy. Still, finding a bisexual woman willing to fulfill that fantasy is often challenging. They call them unicorns because they are rare. Basically, unicorn hunting is when a straight couple is looking for a bisexual woman to join them in bed.
The polyamorous community considers that idea with suspicion because it usually doesn't end well. That is because often, the man want's to plow another woman's pussy, but doesn't want his girlfriend or wife to have sex with another man. Or because the couple often treats the third person as an outsider who is there just for sex. Neither of these situations is a real polyamorous relationship. Plus, the couple often doesn't really think this through and sets boundaries, so many issues and misunderstandings pop up eventually, and at least one person gets hurt.
Is polyamory really working?
In case your only reference of polyamory are porn scenes with hot threesomes, I recommend reading some inside stories. If you're not much of a reader, there is a great movie – "5 to 7" (not porn) that pictures one semy-successful polyamorous marriage pretty well.
Many people's first thought about polyamory is that people who practice it fuck their minds out every day. The truth is, polyamory is often about more than just sex. There are deeper connections between partners in poly relationships, which can make it harder to work. That's why it requires lots of conversations and considerations. If people just jump to fucking without much thought put into it, it probably won't end well. So, is polyamory really working long-term? It can, but only with set boundaries and enough effort from everyone involved.